About us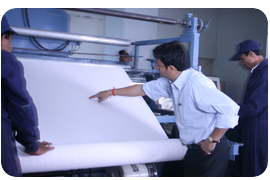 Dhingra Shoe Interlining is a reputed company in the manufacturing of shoes' Interlinings for shoe uppers, Self-adhesive linings, fused buckram and shoes lining. Since the time of the inception the company has successfully gained a respectable position in its area of operation.

Dhingra Shoe Interlining has an industrial experience of more than 20years. Experience of almost 2 decades has earned the company prestigious position in its business field. From the time of its origin the company has progressed fast. We specialize in high quality shoes interlinings self-adhesive lining fused buckram shoes lining etc.
An experience of almost two decades has not only established us firmly in the business field but earned us a great reputation.
We specialize in providing high quality shoe-interlinings, self adhesive linings, fused buckram, shoes lining etc.
Dhingra Shoe Interlining is one of the leading manufacturers and suppliers of shoe interlinings in international & domestic market.